At the beginning of the week, we blogged alleged fraudster, Paul Oei was in tight with BC Premier Christy Clark, yesterday it went up the ladder to MP Joe Peschisolido, and today we have reached the pinnacle with Prime Minister Justin Trudeau.
Reporter Sam Cooper from the Vancouver Sun/Province now reports  Oei's company was the listed sponsor for a July 2015 Richmond Chamber of Commerce lunch featuring Trudeau.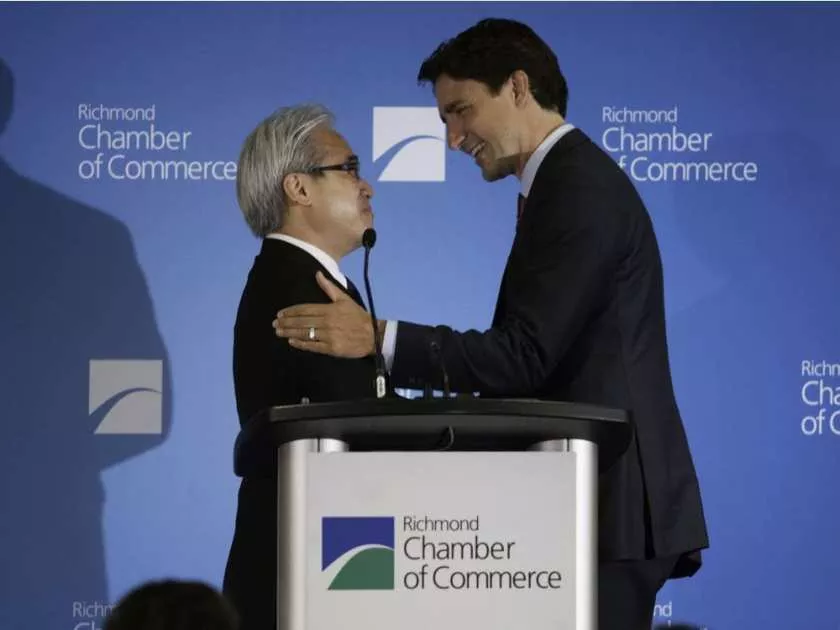 Paul Oei  with soon-to-be Prime Minister Justin Trudeau                            Source: Vancouver Sun Media/Facebook
According to Cooper, "Photos obtained by Postmedia show Paul Oei breaking bread with Trudeau at the luncheon's head table, and introducing Trudeau to the sold-out crowd. Oei and Trudeau embraced before the future prime minister addressed a packed room of Richmond business and political figures."
It leaves one to question why Trudeau is out west "breaking bread" with Oei in July 2015 when according to records, Oei's legal problems with his investors started sometime in (or sooner) June 2014 – some 13 months earlier.    It is more than likely this lawsuit started the subsequent investigation by the Brenda Leong and her people at the BCSC.
We are left wondering why Justin's handlers do not conduct reviews of people (he will have direct contact with) at social events of this magnitude.