The Respondents sent their time-sensitive Settlement proposal to Staff on November 7, 2013.   Finally after 7 weeks of waiting the Respondents were very eager to receive the reply from the Litigator at the BCSC.     As the attachment was opened, eagerness turned to frustration as Staff indicated they did not even take the Settlement Agreement to the Executive Director for approval (or even a review/negotiation).  The reason the offer was time sensitive is the builder and lender were anxious to move the project forward in a timely fashion.   There was NO reason ever given why Staff took this amount of time to reply.
Instead Staff indicated the only way they would take a Settlement Offer to the Executive Director is IF pleaded guilty to their long list of allegations and agreed to pay $5.8 million dollars in fines and disgorgement.   The BCSC website indicates all Settlements must be paid in full at the time the Settlement Agreement is agreed to – this was impossible for the Respondents, let alone the FACT that many of the allegations in the Notice of Hearing were NOT accurate.
ON WHAT PLANET DOES A PERSON HAVE TO PLEAD GUILTY TO ALL ALLEGATIONS OUTLINED IN A NOTICE OF HEARING AND THEN PAY A "RANSOM" OF NEARLY $6 MILLION DOLLARS JUST TO GET THEIR SETTLEMENT OFFER NEGOTIATED?   THIS IS BORDERLINE EXTORTION!
The parties could have avoided a long, lengthy, expensive hearing IF Staff Litigators and the Executive Director would have even looked at the proposal and actually thought about the investors.   In hindsight, it appears that the BCSC did not have the investors best interest at stake as their website promotes – nor was it a fair system for all parties.  Please read for yourself, the reply from Staff and ask "WHY DID THE BCSC NOT TAKE THE TIME TO EVEN REVIEW THE SETTLEMENT AGREEMENT WHEN SO MUCH WAS AT STAKE FOR THE INVESTORS?"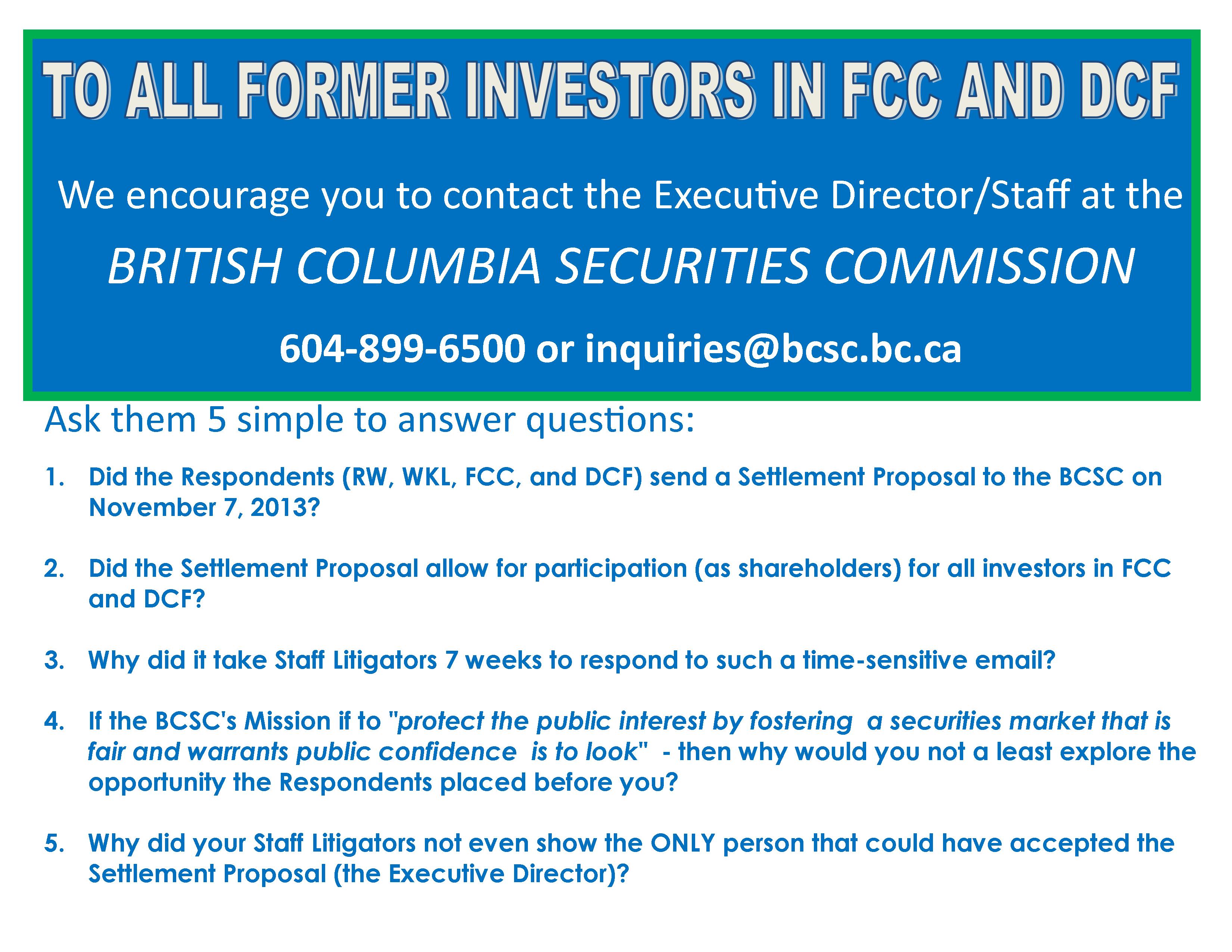 We encourage anyone affected by the Settlement Offer not even being put onto the Executive Directors desk for a review to contact the BCSC at 1-604-899-5600 during regular business hours.  Maybe you can get an answer – the Respondents have certainly not been able to do so.
[Click on the link…]